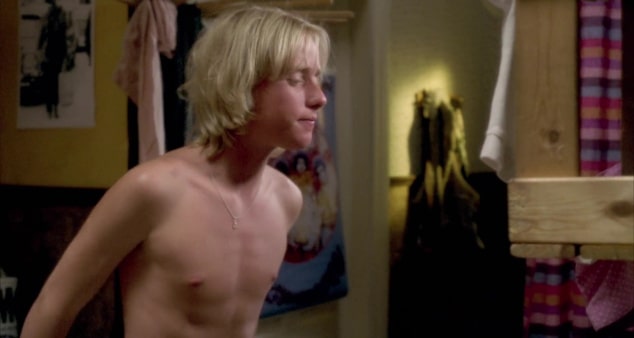 Wild Flowers 1997
– Det store flip (original title)
– 1h 25 min. | Comedy, Drama | 31 January 1997 (USA)
Storyline:
Denmark in the 70's. The teenager Christoffer's parents Nisse and Maria have decided to move into a commune because they want to try the alternative lifestyle. But Christoffer doesn't like it and has trouble adapting. In school the others tease him because he lives in a commune. As a plan from the elders in the commune he starts in a Maoist group to learn about the real ways of the society. He doesn't like it but when his new girlfriend starts to see what he does as cool he goes into it. But at the same time the police start to suspect him to be the terrorist who blows up telephone booths around Copenhagen.
User review:
OK, so maybe my summary is hyperbole. I'll elaborate. Do you know how to tell a typical American film from a Danish one? Other than the language spoken, smartass. The level of conflict, and how it is resolved. You see, we're a culture of It'll Work Out On Its Own's. Think of the British. We don't make noise, because that's doesn't reflect well on one's upbringing, now does it? So, the Hollywood picture will end with an action scene, the bad guy will get killed in a definitive way (and/or possibly with sequel baiting), and things will Appear To Be Safe Once Again. In the one from here, the situation is disarmed with minimal combat (maybe you'll even come to realize that, hey, those guys who seemed like villains never did anything *that* awful). Oh, in both cases, the guy will get the girl. We use some of the clichés, and have our own personal share of them. This has no antagonists. Early on, you might believe that the police or The Man will turn out to be, but you'll soon realize that you're meant to laugh at the hippies (in spite of this being an utterly unfunny comedy). A teenager is growing up in the 70's, and his parents go for the whole "fight the power" thing at the time. The environment is credibly rendered (if distinctly lacking much of the sting, as I'll get into), and this does bring up important issues about the stability, the actual openness, if there really is not a class system within that society, and if freedom, equality, no possessions and the lack of monogamous relationships are truly compatible with, frankly, human nature. This is the best aspect of this (if it fails to leave us with a sense of wonder at it, we don't understand why anyone would join this ideology from this, and if someone had no idea about Woodstock, the sit-down strikes etc., they would not get an objective perspective on the changes or the other positives that we are still feeling today). The problem is, we don't care about any of these characters (that, and several things have no measurable consequence, a mainstay of entirely too many of our flicks). This is the second time I watch it, unless I've completely forgotten any other viewings, and, honestly, not a single one of the people in it are memorable. Part of the problem is our lead. He's meant to be our window into this world, and as uncomfortable with it as we (as adjusted members of The Real World that understand that complete Socialism has yet to work in any country… and for the record, I prefer our model to pure Capitalism). Early on, this comes across, if he is among the worst actors (and to be fair, every other adult delivers what is at least a satisfactory performance) in this, second only to the children. Then he begins to believe in the commune's cause, in all of its ill-defined glory (less government I can understand… none at all? How would that work?), for little defined reason other than the script says so(Stockholm Syndrome?). The problem is, the moment he has to convey anything other than the superficial and instant rejection (on account of his being uncomfortable with it and wanting to be normal… it couldn't get any more banal) of a culture he is shoved into against his will, he comes up short. We really can't tell what he wants, when, or why, and he's supposed to be our anchor. Without it, we float here and there, and when the 75 minute running time (sans credits) comes to a close, petering out as expected from one of ours that doesn't break the mold (there are numerous examples of such), we are bewildered and relieved. The romance does not make sense. He pretends to like where he lives because she is attracted to it. They have nothing in common, as far as we can tell. I don't know, does the ridiculously hot Mira Wanting have a thing for goofy-looking, moderately long-haired blond dudes? I guess I could dye and grow out my hair… anyway, this has great tunes. It's filmed and edited well, setting a mood and clearly being put together by people who know what they're doing. The content is the issue, not the presentation. There is a little sexuality and full frontal nudity of both genders in this. I recommend this to forgiving fans of our cinema.
Director: Niels Gråbøl
Writers: Per Daumiller, Niels Gråbøl
Stars: Sixten Tobias Kai Nielsen, Ditte Gråbøl, Niels Olsen
Country: Denmark
Language: Danish | English
Release Date: 31 January 1997 (USA)
Also Known As: Wild Flowers
Filming Locations: Nordisk Film Risby Studierne, Albertslund, Sjælland, Denmark.
https://www.imdb.com/title/tt0120218/
Format : MPEG-4
Format profile : Base Media
Codec ID : isom (isom/iso2/avc1/mp41)
File size : 1.44 GiB
Duration : 1 h 18 min
Overall bit rate : 2 638 kb/s